Project: 276/2010


Title: The roles viruses play in the decline of terrestrial orchids in Australia's hotspot of global biodiversity
Applicant: Dr. Steve Wylie
Institute: Murdoch University, Perth, Western Australia


This project is jointly funded by the Australian Research Council, The Australian Orchid Foundation, and the WA Botanic Gardens and Parks Authority (BGPA). The research will be done at Murdoch University and in collaboration with botanists and plant physiologists at Kings Park, Perth. Chief Investigator Prof. Mike Jones (Murdoch University), Partner Investigators Prof. Kingsley Dixon (Botanic Gardens and Parks Authority), and Prof. Marilyn Roossinck (Pennsylvania State University).
The Southwest Australian Floristic Region in Western Australia (WA) represents a global centre of terrestrial orchid richness. Of the 407 described species of orchids in the region, 76 have a high level of conservation risk. Very little is known about the identity, incidence and impact of viruses on native orchids, but more than 30 viruses have been described infecting commercially-grown and wild orchids from other parts of the world. This research, will for the first time, determine which Australian orchids are infected with viruses and measure how infected orchids cope with drought and heat stresses.
Massive parallel DNA sequencing approaches will be developed to identify and map viruses in wild orchid populations throughout the SW Australian region, and in captive populations so that benchmarks of virus infection can be established and recovery programs are informed on virus status of individual populations. We will also investigate the hypothesis that long-established orchid-virus relationships may have a positive impact on orchid survival.
The seven aims of this project are:
1. To catalogue the biodiversity of viruses infecting terrestrial orchids.
2. To measure the fecundity of orchids infected with viruses and determine if viruses are vertically transmitted in them.
3. To measure gene expression responses in orchids to infection by ancient and recently encountered virus partners.
4. To compare physiological responses to heat and drought stresses in orchids infected and uninfected with viruses.
5. To develop simple PCR-based assays to detect the viruses found.
6. To map the distribution of viruses in natural orchid populations
7. To integrate the results of this research into recovery plans for threatened terrestrial orchids.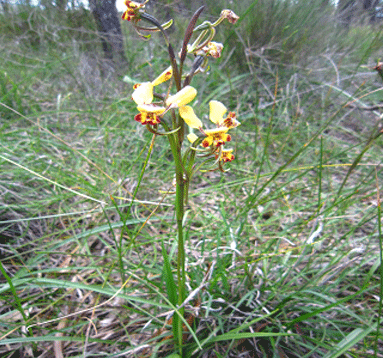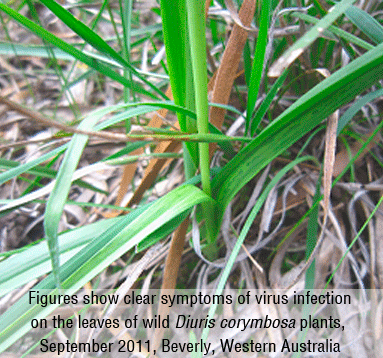 Summary of main findings
Australian native orchids are natural hosts to a range of viruses that probably coevolved with orchids in Australia. In some, or most, cases these indigenous viruses may not be harmful to their hosts. Exotic viruses that presumably recently arrived in plants associated with agriculture and horticulture and weeds also infect Australian native orchids (Table 1). These may be more harmful to their hosts, as evidenced by mild to severe symptoms on leaves.
Viruses exist in ex-situ populations of orchids, where they may spread from plant to plant. This was seen with Caladenia virus A (Poaceavirus) that appeared to have spread from its original host species to others in the greenhouse environment. This should alert orchid conservationists to the possible danger of propagating orchids in nurseries before subsequent planting out in the wild to bolster wild populations. This practice could lead to inadvertent spread of viruses and actually reduce population viability.
Orchids exhibited a range of responses to virus infection, from asymptomatic to visible leaf mosaics and dead patches on leaves. Just because there are no symptoms does not necessarily mean there are no viruses present.
An unexpected finding was the existence of a huge variety of viruses infecting the mycorrhizal partners of orchids. Ceratobasidium cultures sometimes harboured multiple partitiviruses, endornaviruses, mitoviruses, hypoviruses, and others. The influence these have on their fungal hosts or orchids is unknown.
Experiments to investigate the influence of viruses on drought tolerance in orchids did not show an affect.
Summary of orchid viruses discovered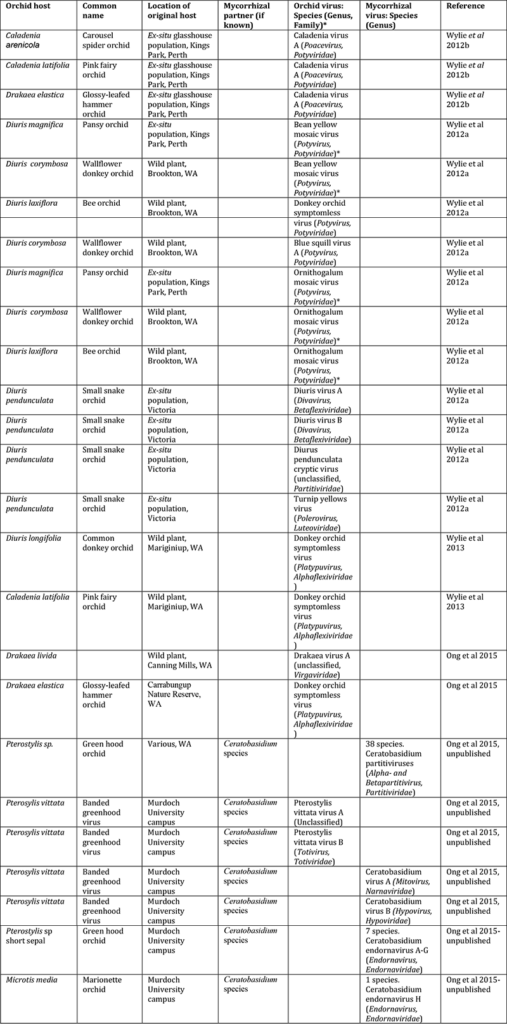 * Exotic virus species
Papers published as a result of this project
1. Wylie SJ, Hua Li, Dixon KW, Richards H, Jones MGK (2012a).
Exotic and indigenous viruses infect wild populations and captive collections of temperate terrestrial orchids (Diuris species) in Australia. Virus Research 171: 22-32
PubMed: 23089850 http://dx.doi.org/10.1016/j.virusres.2012.10.003
2. Wylie SJ, Tan A, Hua Li, Dixon KW, Jones MGK (2012b)
Caladenia virus A, an unusual new member of the Potyviridae from terrestrial orchids in Western Australia. Archives of Virology 157: 2447-2452
http://link.springer.com/article/10.1007%2Fs00705-012-1452-2
3. Wylie SJ, Li H, Jones MGK (2013)
Donkey Orchid Symptomless Virus: A Viral 'Platypus' from Australian terrestrial orchids. PLoS ONE 8(11): e79587. DOI:10.1371/journal.pone.0079587
http://www.plosone.org/article/info:doi/10.1371/journal.pone.0079587
4. Wylie SJ, Jones MGK (2013)
Are viruses always villains? The roles plant viruses may play in improving plant responses to stress. In: Tuteja N, Gill SS, Tuteja R (eds) Improving Crop Productivity in Sustainable Agriculture. Wiley-Blackwell, Weinhein
5. Ong, J. W. L., Phillips, R. D., Dixon, K. W., Jones, M. G. K. and Wylie, S. J. (2015)
Characterization of the first two viruses described from wild populations of hammer orchids (Drakaea spp.) in Australia. Plant Pathology. DOI: 10.1111/ppa.12396
6. Ong JWL, Sivasithamparam K, Dixon KW, Jones MGK, Wylie SJ (2016)
Novel Endorna-like viruses, including three with two open reading frames, challenge the membership criteria and taxonomy of the Endornaviridae. Virology 499: 203-211
7. Ong JWL, Li H, Sivasithamparam K, Dixon KW, Jones MGK, Wylie SJ (2017)
The challenges of using high-throughput sequencing to track multiple bipartite mycoviruses of wild orchid-fungus partnerships over consecutive years
Virology 510 (2017) 297-304
8. Ong JWL, Li H, Sivasithamparam K, Dixon KW, Jones MGK, Wylie SJ.
Novel and divergent viruses associated with Australian orchid-fungus symbioses
Virus Research 244 (2018) 276-283