Project: 300/2014
Title: The establishment of the Orchid Conservation Centre, Cranbourne.
Applicant: Dr. Noushka Reiter
Institution: Royal Botanic Gardens Melbourne, Victoria

The aim of the program over the next 5-15 years is to reduce the likelihood of extinction of nationally threatened orchids in south east Australia. Each of the species has a Recovery Plan which we intend to help implement.
The Australian Network for Plant Conservation (ANPC) has partnered with the Royal Botanic Gardens Melbourne to fit out a conservation laboratory at the Royal Botanic Gardens Cranbourne. The laboratory we have been using we have been renting off the Department of Environment and Primary Industries. The opportunity arose to establish a permanent facility at the Royal Botanic Gardens Cranbourne.
The laboratory we are renovating at the Botanic Gardens (from an old set of offices) will be used by both staff and volunteers for the purpose of orchid conservation. The philosophy is that regardless of funding cycles there will be a place to grow orchids from seed symbiotically for conservation purposes.
The Orchid Conservation Program is currently the only large scale means by which these orchid species can be propagated in sufficient numbers to significantly reduce the threat of them becoming extinct in the wild. Research over the last 15 years has led to advancement that can now show where the wasps live and how to reintroduce the mycorrhizal fungi with the orchids to enable successful reintroductions of these species.
An example of our work:
Thelymitra epipactoides was successfully germinated over a range of temperatures with multiple fungal isolates with 53 of the 93 fungal isolates testing positive for germination across three of the largest remaining sites of T. epipactoides in south western Victoria. No benefit was found in co-planting with any of the 10 species that were trialled.
The identities of the fungi isolated are within the Tulasnellaceae and are sufficiently different to suggest that they belong to separate species. Clustering of fungi by geographical location by both sequencing and ISSR analysis of microsatellites suggests that the fungi differ not only in ribosomal DNA but also throughout their genomes.
This clustering correlated with the temperature ranges at which germination occurred, with isolates from the Little Desert germinating at the low temperature than those from coastal and lake areas. This information suggests the need for mycorrhizal diversity in introduction programs to increase plant survival and germination under varying climatic conditions. The difference between sites not only in germination thresholds but also genetic diversity also warrants consideration for re-introduction programs and the possibility of introducing mycorrhizal fungi that may not be present in that area.
Due to the success of the germinations initial reintroductions have now taken place; 1500 Thelymitra epipactoides were reintroduced into three sites in Western Victoria following the reintroduction plan (Reiter, 2012), with a further 400 plants supplemented in June 2013 (Reiter, 2013) and 100 in August 2014. The involvement of community groups in the re-introductions was fantastic and the profile of threatened orchids and this species within the local communities has been raised.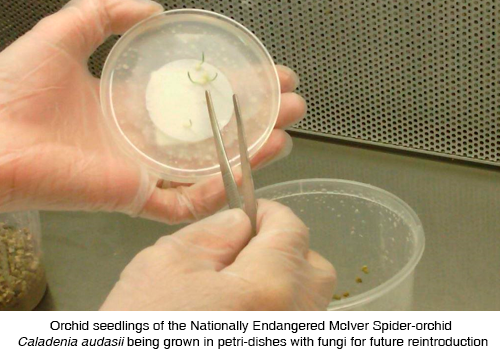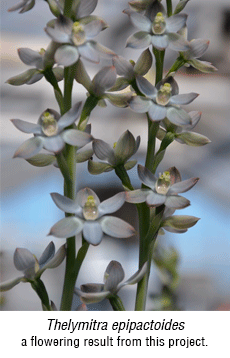 Building the Orchid Conservation Laboratory a Community Funded Success (August 2015) 
In late 2014 ANPC has partnered with the Royal Botanic Gardens Victoria to raise funds fit out an orchid conservation laboratory. The call for funding was put out through the organisation chuffed (https://www.chuffed.org/project/save-our-threatened-orchids) and then went viral through an article in the age http://www.theage.com.au/victoria/crowdfunding-bi… via @theage.
The objective of the program over the next 5-15 years is to reduce the likelihood of extinction of nationally threatened orchids in south east Australia. In Victoria alone there are 80 species that will significantly benefit from this program, the program also intends to grow threatened orchids for NSW, SA and the ACT, which it is currently doing with a small number of species.
By establishing an orchid conservation program and laboratory that can be used by both RBGV staff and volunteers in orchid conservation for now and the future, regardless of funding we will have secured the future of many of our Australian threatened orchids. In doing so the profile of threatened orchids will be raised throughout Australia with the general public.
In a combination started from a small crowd funding bid, but soon followed by direct generous donations from multiple organisations funding was raised in order to fit out an orchid conservation laboratory and nursery.
Through generous donations from The Australian Orchid Foundation (through the Noel Lothian Fund), The Australian Communities Foundation through the Alf & Meg Steel and Melliodora sub fund, The Australasian Native orchid Society (Vic Branch), Friends of The Royal Botanic Gardens Cranbourne, Australian Native Plant Society Canberra Region and the many individuals and organisations that contributed towards the crowd funding on the chuffed website and individually.
The laboratory is now up and running, with volunteers now regularly taking part in orchid conservation activities. The first orchids grown in the new facilities are being potted up having been successfully symbiotically grown from seed in the laboratory. There is a long road ahead, but it is looking brighter for threatened orchids in eastern Australia.
Orchid Conservation Program update (April 2016)
The Royal Botanic Gardens Victoria and the Australian Network for Plant Conservation joined hands to raise fund to fit out an Orchid Conservation Laboratory at the Royal Botanic Gardens Victoria. In total $120,000 was raised including significant grants from the Australian Orchid Foundation, ANOS (Vic), Australian Communities foundation and many fantastic individuals and community groups. The response was overwhelming thank you to all that contributed both individuals and organisations. On Christmas Eve 2014 boxes were unpacked and now we have a fully functioning laboratory and nursery full of threatened orchids grown from seed with their mycorrhizal fungi being prepared for re-introduction back to their native environment. We have five regular volunteers in the laboratory including Wendy Bedggood who still manages to make it into the lab from Horsham occasionally.
Marc Freestone has just started as our Orchid Conservation Officer last November and will be working full time in the laboratory and nursery. Gail Pollard as ANPC staff has continued to provide Field Officer Assistance to undertake monitoring and assist with re-introduction works in the Wimmera.
Six federally listed species including: Caladenia versicolor, Caladenia colorata, Caladenia fulva, Caladenia xanthochila, Caladenia hastata and Thelymitra mackibbinii were re-introduced in winter 2015 back into their natural range in Victoria with partners including ANPC, landholders, Parks Victoria, community volunteers, Australasian Native Orchid Society (Vic Branch), Trust for Nature, WCMA, Alcoa/Portland Aluminium and DELWP. In addition to this eight federally listed orchid species were re-introduced into Victoria and South Australia by our partner organisations that we propagated symbiotically in the laboratory.
Additionally we were successful in a range of grant applications significantly for the Saving Our Species OEH grants in N.S.W for pollination studies and propagation of Caladenia concolor, Caladenia arenaria and Diuris callitrophila, we have also secured funding for continued monitoring of our recent re-introductions until 2018 through the Wimmera CMA through the National Landcare Regional Fund Initiative from the federal government and continued threat abatement works, propagation, re-introduction and pollination studies on 3 species of threatened orchids in the Wimmera with the WCMA and Trust for Nature through the Victorian Government Threatened Species Initiative. In addition we have been funded to propagate 4 species of federally threatened orchids for the Botanic Gardens in Adelaide and DEWNR, we have also been funded for research into the propagation of the genus Prasophyllum through DELWP, several pollination studies and have 16 threatened orchid species funded and symbiotically propagated this year. We have entered into research collaborations with ANU and are working with the University of Puerto Rico on population modelling. Ten public talks were given on the program for conferences and community groups and over 50 volunteers have been involved in the on ground works of the program throughout the year.