Project: 309/2016


Title: Disentangling evolutionary relationships in the Thelymitra pauciflora/nuda species complex using next-generation sequencing.
Applicant: Dr Lars Nauheimer
Institution: Australian Tropical Herbarium and James Cook University, Queensland.


The sun orchids (Thelymitra) comprise over 118 species with several threatened species and with a centre of diversity in Australia. Despite considerable taxonomic work over the past two decades, evolutionary relationships and species delimitation within Thelymitra are still poorly understood. This is mainly due to the high degree of morphological variation found within the genus and the frequent occurrence of natural hybrids, which blur taxonomic boundaries.
Previous molecular phylogenetic studies were based on few markers and mainly derived from the plastid genome. They were unable to resolve complex relationships, and yielded only limited insights into the evolution of the group. In this project we will use high throughput sequencing approaches to examine evolutionary relationships and species delimitation within Thelymitra pauciflora/nuda species complex – the largest species complex in the genus containing almost half of the genus' diversity.
With the help of the Australian Orchid Foundation, additional fieldwork could be performed in South Australia to increase the density of sampling of the targeted species. This will enable a thorough assessment of species boundaries, detection of past hybridization events, and improve the understanding of phylogenetic relationships in the sun orchids.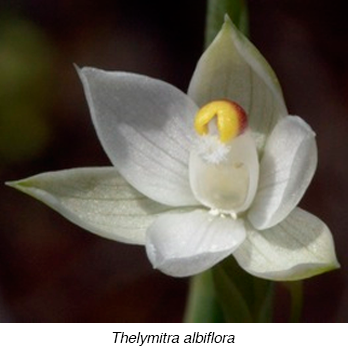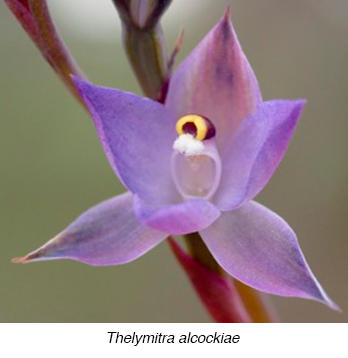 Research Outcomes
The AOF funded fieldwork component increased successfully the taxon sampling for our research by adding crucial Thelymitra species and by including several collections from type localities. The collected samples contributed to two phylogenomic studies that investigated the relationships between Thelymitra species in a genus-wide phylogeny and assessed species delimitations and genetic admixture in major clades of the genus. Together the analyses revealed substantial reticulation in the evolution of the genus, with a large proportion of species being involved in recent or ancient hybridizations. The genus-wide phylogeny resolved most relationships between lineages in Thelymitra and established a thorough phylogenetic framework for the genus. The species delimitation study in the pauciflora/nuda clade revealed frequent admixture and a genetic diversity that correlated poorly with taxonomic concepts for the group, with many species being insufficiently differentiated to warrant recognition at species level.