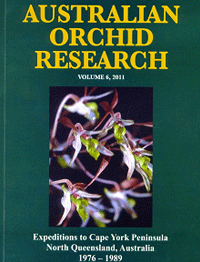 Australian Orchid Research Volume 6
Expeditions to Cape York Peninsula North Queensland, Australia 1976 – 1989s 2, 3, 4 and 5
Lavarack, P.S.'Bill'. 2011
Have you ever wanted to visit the Cape York Peninsula wilderness to see orchids in their natural environment, but not able to do so? Now you can from the comfort of your home.
Published by the Australian Orchid Foundation, this new volume in the series Australian Orchid Research is an informative record of the many expeditions taken to survey the orchids of Cape York Peninsula from 1976 – 1989.
As you read the extensive detailed expedition reports and follow the maps, you will feel you are actually part of the expeditions. The maps are fully detailed and supported by 68 colour photographs of orchids in situ plus the type of country where they grow.
Paperback.180 pages.