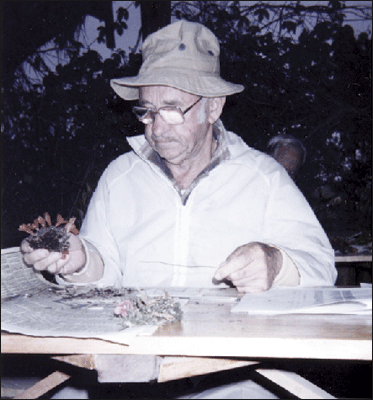 Image courtesy Lois Dixon-Ward
Award of Honour for 1987 granted to:
THE GRANTING OF THIS AWARD RECOGNISES THAT:-
You joined the Victorian Orchid Club in 1931 when it was the only orchid society in Australia. After the war, you joined the committee of the Victorian Orchid Club and have been an active member ever since. You were president 1959-1962 during which time you introduced new ideas, innovations which are in common use today.
You were heavily involved in the formation of the Australian Orchid Council, being its first vice president then president from 1964-69. During that time, you co-ordinated the arrangements for the Sixth World Orchid Conference held in Sydney in 1969.
You have attended many world orchid conferences and are currently a member of the International Orchid Commission.
You worked with Hermon Slade from the early 1970's to form the Australian Orchid Foundation in 1976 after overcoming various legal problems.
You have been the Chairman of Directors of the AOF since its inception. Two of the major activities of the Foundation have been the funding of expeditions to document the orchids of Cape York Peninsula and the English translation of Schlechter's Orchidaceae of German New Guinea.
You are life member of many orchid societies and patron of Maribyrnong Orchid Society.
You have promoted the growth of the Odontoglossum alliance in Australia and created many hybrids of world excellence.
You have developed a system of raising and circulating seedlings of the South African species Disa uniflora, making them available to growers in southern Australia.
You have campaigned to have Australian native orchids featured on four stamps in 1986, which coincided with the Australian Orchid Conference being held in Adelaide.