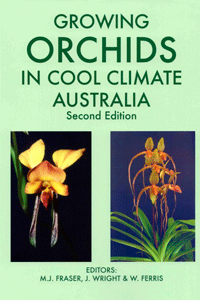 Growing Orchids in Cool Climate Australia (Second Edition)
Fraser, M.J., Wright, J., & Ferris, W. 2013
Written by members of the Orchid Society of Canberra this is a practical guide to the cultivation of orchids and it also offers somewhat more than the title suggests. This book is one of the most complete and certainly one of the most popular 'culture' books ever.
Topics include; what are orchids, structures for growing orchids, potting media, mounting orchids, propagation, pests and diseases and showing your orchids. The main section covers individual cultivation of the most popular types of orchids that we all fall in love with at the beginning … Cymbidium, Cattleya, Oncidium, Paphiopedilum, Masdevallia, Stanhopea …and much more.
An invaluable reference for novice growers and those with a passion for this delightful plant family. Approx. 190 colour photographs.
Paperback. 128 pages.