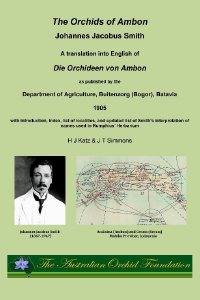 The Orchids of Ambon
Katz, H. J., Simmons, J. T. 2022
A translation into English of Die Orchideen von Ambon by Johannes Jacobus Smith as published by the Department of Agriculture, Buitenzorg (Bogor), Batavia, 1905.
Translation completed 1985 by the Publications Committee, The Australian Orchid Foundation, unpublished in hardcopy, digitised and published 2022.  Includes introduction, index, list of localities and updated list of Smith's interpretation of the names in Rumphius' Herbarium; 80 pages; searchable PDF.
A publication of The Australian Orchid Foundation.