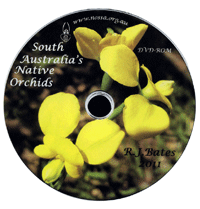 South Australia's Native Orchids
Bates, R.J. 2011
This magnificent DVD of South Australia's native terrestrial orchids has been compiled by Bob Bates and published by the Native Orchid Society of South Australia.
This 1,276 page document is in Adobe Acrobat PDF format and has been fully indexed on both botanic and common names making it very easy to navigate to any orchid quickly.
Each orchid is presented on two pages with a photograph of the flower and information on identification, habitat, distribution and flowering times etc.
This DVD is essential for anyone interested in South Australia's diverse orchid species.
With the allocation of an ISBN, this is now a reference work which can be confidently cited.