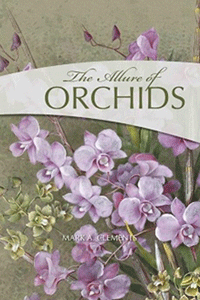 The Allure of Orchids 
Clements, Mark.  2013 
For many lovers of flowers, orchids have a particular allure. Popular among gardeners, florists and nature lovers, orchids come in a huge array of shapes, sizes, and colours, and have some of the most intriguing names of any flower species — Flying Duck, Beard, Fire and Boat-lip Orchids, Doubletails, Fairy Bells, Parson's Bands and Greenhoods. Some spend their whole lives underground while others grow high in trees. And they are the tricksters of the flower world, many mimicking the forms and smells of female insects and spiders to sexually deceive their male counterparts into pollinating the flower.
'The Allure of Orchids' features an essay by orchid expert Mark Clements, accompanied by a portfolio of illustrations, both historical and modern, of this alluring species. In it you will find works by around 25 artists, including the extraordinarily detailed lithographs of early botanical illustrator Ferdinand Bauer, Ellis Rowan's beautiful paintings, the delicate watercolours of Margaret Cochrane Scott, and many more.
There are over 140 orchid illustrations. Images are divided into genera and species. Author notes accompany the images in the portfolio, with interesting historical or botanical facts. Ideal gift or coffee-table book.
Softcover. 224 pages.