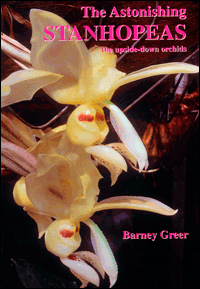 The Astonishing Stanhopeas: the upside down orchids
Greer, Barney. 1998
52 species and approximately 6 natural hybrids are featured in this concise manual on the genus Stanhopea. This manual will assist both the novice and advanced hobby grower to achieve the best from their plants. Over 70 colour photographs and 6 line drawings.
Paperback. 79 pages.
The AOF has recently come into possession of the many slides of Stanhopea taken by Barney and digitized by James Indisto.
These slides are now available to all lovers of Stanhopea on Flickr at this address